Tourist attractions in Pakistan are plentiful, travel with us on a breathtaking tour of Pakistan. Embark on an extraordinary experience that will capture your heart and imagination.
As experienced Pakistan Tour Guides we are offering a unique service to a very special group. You will be personally escorted in a small air-conditioned, luxury coach. We will undertake every aspect of your escorted tour.


Our Pakistan tour incorporates an incredible dazzling variety of culture and scenery. You will experience a way of life that has not changed for thousands of years. A true Pakistan Adventure Tour


We will personally advise, book and escort you in every aspect of your Pakistan tour including International return flights from London to Islamabad, hotel accommodation, meals, guides, entrance fees and internal travel.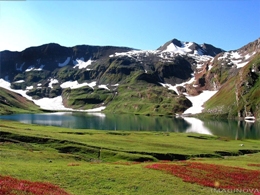 The Beautiful Lake in Kaghan Valley
Sit back and relax and let us transport you in comfort to the magical side of Pakistan.

You will be personally escorted through the vast array of tourist attractions in Pakistan from the bustling bazaars to the sights and smells of Lahore, and then on to the Karakoram highway and the incredible scenery of the Himalayan hide-away.
Our aim is to provide our clients with a truly personal, memorable cultural experience in luxury and comfort.
So before you make any Pakistan Tour booking contact us and we will show you the Pakistan that is hidden from the West and unappreciated by the uninformed.