Tourism in Islamabad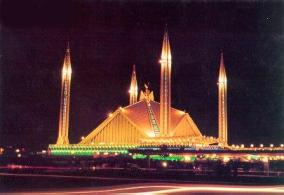 Islamabad Faisal Mosque
Tourism in Islamabad offers the traveller a vast array of choices from the many beautiful buildings, Mosques and of course Parliament. Islamabad is the capital of Pakistan; it is relatively young, the capital being moved from the hot, humid city of Karachi in the early sixties. There are wide-open boulevards, tree lined avenues and parks.

It is overlooked by the Margalla Hills and has a most pleasant climate with little or no wind. Animals and Scooter Taxis are not allowed in the capital, which makes for a pleasant environment.
Whilst touring Islamabad we will dine in Daman-e-Koh, which offers fantastic views of Islamabad whilst dining, where we will also see monkeys roaming the hills.
We will also tour Rohtas Fort, which is an easy 2-hour drive from Islamabad, where we will picnic in the open air.
Or let us take you on a 2-hour journey west of Islamabad to visit the famous Prince Malik Atta as seen on the Michael Palin show, where the dashing locals will race bulls and ride Stallions tent pegging, only the most fearless will ride.
Islamabad has many places of interest that you will wish to visit including many art galleries and museums. Rawalpindi is also within 15 minutes of Islamabad and is a bustling town full of life and bazaars. We offer the most comprehensive Islamabad holidays. You will have the opportunity to buy in Islamabad a stunning variety of goods from Kashmir silver to beautiful carpets.
Yet another Pakistan tourist attraction is the famous Air Safari offering travelers the opportunity to fly around K2 and take wonderful photographs.
From Islamabad we will also drive out through colourful scenery to Taxila where we will be guided through the ancient ruins and museum.
Islamabad also boasts the largest Mosque in Pakistan named after King Faisal of Saudi Arabia.Its pillar- less domed building can house more than 100,000 in prayer.