Bespoke Tours of Pakistan
Patrick and Josephine Gregory, The Company Directors and their three children have lived, worked and toured in Pakistan since 1998. Josephine operates the tours in Pakistan, and will accompany you throughout your tour of all the plentiful Pakistan Tourist Attractions. We have fantastic local staff that will delight in showing you, along with us the wonder of Pakistan.
The tour teams have all had experience of tours and planning, and have personally visited all the locations mentioned.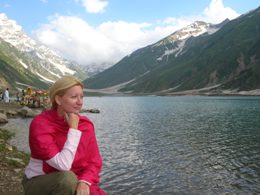 Josephine - Tour Director

Travellers have been exploring Pakistan for many years, where Asia's most beautiful landscapes abound. Pakistan borders India to the East, China, Iran to the Southwest and Afghanistan along its Northern border.
A stunning landscape and mixture of religious groups; you will experience a way of life unchanged for thousands of years.
Our role is to fulfill your expectations; one of our directors, plus a member of our local tour team will personally escort you throughout your tour in Pakistan. We have extensive local knowledge and we will undertake the whole aspect of your tour.
We will book, advise and escort you through every part of your Pakistan experience – our escorted tours and stated price include return flights from London Heathrow to Islamabad, all accommodation, meals, internal travel and entrance fees.
Let us escort you to the magical side of Pakistan, for a truly memorable Pakistan Adventure Tour.


Many of us take online safety seriously, but a lot of us aren't aware about the damage that can be done to our online reputation by those with an axe to grind. The SiteSell site talks about Google bombs and how they are used to sway public opinion. In this case, it was done by unethical competitors.