Himalayan Foothills
Tours to the Gateway of the Himalayas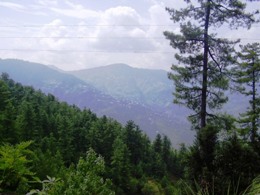 Pine Clad Foothills En-Route to Nathiagali

Bordering Afghanistan, China and India, Northern Pakistan is a region of both great ethnic diversity and immense natural beauty and remains practically undiscovered by tourism.
Setting out from Murree , Pakistan's favourite hill station, which is only a distance of 50 kilometers from Islamabad and at an altitude of 2286 meters. Murree is famous for its cooler climate and lush green scenery.
From then we wind through the tree-clad roads to reach Nathiagali which is possibly the most picturesque hill station in Pakistan. We will take many strolls the pine forests.
For the slightly adventurous amongst us there will be a delightful horse trek – each with our own groom to the top of Mukshpuri, which is at 2800 meters.