Khan Club Visit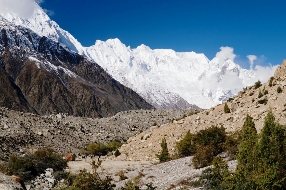 The Khan Klub is hotel from a by-gone era. A very popular hotel in Peshawar. The hotel is a 200 year old converted Sikh Haveli and is owned by Bashir Ahmed Awan. The hotel has a 'jeweled' theme each room is named after a gemstone. Lapis, Spinel, Morganite, Tourmaline, Topaz, Preidot, Ruby and Garnet. The rooms are beautifully decorated with antiques in every corner.
You will eat a traditional Pakistani dinner in the main room on pillows and rugs. The food is simply delicious. The Khan Klub is located in the oldest and most historic part of Peshawar.
After a strenuous afternoon exploring the city this is the perfect location for a stylish afternoon tea.