Route of the Silk Road
Route of the silk road


Pakistan's Karakoram highway follows the Silk Road that Marco Polo used on his journey to China. The highlights of traveling this route are the old city of Peshawar, the stunning mountain scenery of the Upper Northern territory and the Hunza Valley.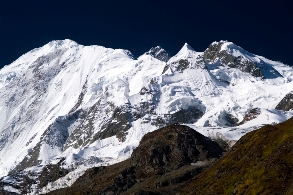 Karakoram Range in Winter

This area's unspoilt natural beauty is often described as constituting the 8th wonder of the world.

The Silk Road opened up over 3,000 years ago. The Karakoram highway took nearly two decades to build with the assistance of the People's Republic of China. 24 major bridges and about 60 smaller ones link the highway; all showing their Chinese influence with the cement rails and posts that are decorated with stone lion's heads.

As the Karakoram then continues into the Northern Territory and the Trans-Himalayas, the scenery changes. The 7,000 ft high Shangla Pass provides a stunning view of green lush valleys and terraces slopes. It descends into the beautiful Swat Valley.As you continue to the Upper Northern Territory the landscape changes yet again, you will now encounter narrow gorges, ravines, rivers and streams.

From the balcony of the Serena Lodge in Gilgit you will have a spectacular view of Mount Rakoposhi, Diran and Deobani.This is a beautiful stop along the Karakorum is the Hunza Valley. The incredible scenic Serena Baltit Inn is located in the ancient town of Karimabad in acres of lowers gardens. Baltit Fort is perched on an upper ledge beneath the snow capped Rakoposhi.

From Hunza the Karakorum continues up through dark narrow valleys. The Karakoram Highway enters the Kunjerab Valley winding through majestic sweeping mountain ranges, dipping and rising with the contours of the landscape. The route often takes on the feel of a roller-coaster as the road dips into and out of the Indus's wide riverbed.


The Silk Road is not without its hazards but even today it is still a high Pakistan Adventure where some of the world's most beautiful scenery greet you at every turn.