Travel to Lahore
The Cultural Heart of Pakistan
Travel to Lahore which has been the cultural capital of the Punjab for the last thousand years; it had been the cultural centre of Northern India extending from Peshawar to New Delhi.

It is possible to travel from Lahore to Delhi via Wagah. A visit to the lowering the flag ceremony at Wagah Border is a must 'do', it combines a sense of history and excitement as the crowds on each side try and shout each other down.
For a more peace evening we will stroll through the Shalimar Gardens , where we will find many Lahoris enjoying the beautiful gardens.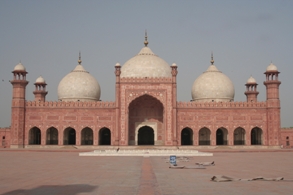 The Badshahi Mosque in Lahore


The thirteen gates of Lahore are a main tourist attraction and stepped in history they lead through a labyrinth of streets into the red light district. Within the historical old gates of Lahore we will also find many fantastic restaurants eating in Lahore is a memorable experience.
The city as we know it today, reached its peak of glory during the Mughal reign of Akbar the Great, who made it his capital in 1575.
The British during their reign (1849 -1947), when they 'occupied India' and maintained Lahore as the northern regional Headquarters, harmoniously combining Moughal, Gothic and Victorian styles of architecture.
Also the famous
Badshahi Mosque marks another historical landmark. The tour would not be complete without visiting the historic Lahore Forte built in the 11th century. This is the only place one can see different phases of Mogul architecture as ruler after ruler made additions. Once inside Lahore Fort you can visit many rooms, including the Palace of Mirrors which is called Sheesh Mahal.
As well as the plentiful tourist attractions within Lahore we also have the Khewra Salt Mines a short drive from Lahore. The Salt Mines are fascinating and we will travel down a railway line into the salt mine where there are several beautiful sculptures. "Lahore Lahore Hai" meaning Lahore is Lahore, there is no other city like it.