Polo in Shandur
Witness this truly unique event. Join International tourists' and thousands of Pakistanis who travel from all over the country to enjoy polo on the world's highest Polo ground at Shandur. This is the most exclusive polo match in the world.There is a traditional polo tournament between the teams of Chitral Village and Gilgit village during July each year.

The tournament is held on Shandur Pass itself, the highest polo ground in the world at just under 4000 meters. It is a highly competitive event that is rooted in tradition. The festival includes folk music and dancing. The game is commonly played to music and a big drum.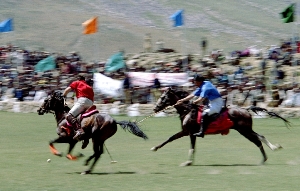 Polo in Shandur Valley
In 1936 the first polo tournament took place at Shandur organized by a British Political Agent, Major Cobb. He was fond of playing polo under a full moon, and had the polo ground here named, "Moony Polo Ground".

The tournament at the Shandur Pass is a special occasion for the people of Northern Pakistan. It is a place unique and exotic in itself, decorated by small wild flowers, herbs, beautiful green plateau surrounded by the most fantastic mountain scenery in the world. Amongst the horse loving people of Chitral, Gilgit in the Hunza Valley, the game is still played in its original form, on ground that is as hard as the men and horses that play this most exciting game.

We will travel to Shandur via Pakistan International Airlines into Gilgit and onto Chitral in jeeps plus drivers to the Shandur Valley where we will sleep under the stars in tents, as there are no hotels available and await the excitement of the chukkas between Chitral and Gilgit.

It is the most exciting polo match that you will ever encounter. For our clients not wishing to sleep under canvas we can arrange helicopter flights from a beautiful hotel in Gilgit.

Our bespoke Shandur Polo tour is by special arrangement only.