Wagah Border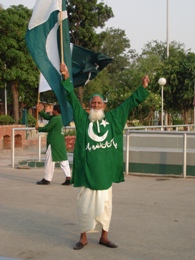 Lowering of the Flags on the Wagah Border Road

Wagah is the only road border in the northern area, between India and Pakistan, and lies on the Grand Trunk Road between the cities of Lahore, and Amritsar, India. Clients are driven to the cermony by private bus, accommpanied by their guide.

Wagah itself is a village where the controversial Radcliffe Line was first drawn. The village was unified before partition in 1947. Today, the eastern half of the village remains in India whilst the other half is in Pakistan.

The Wagah border is a ceremonial border where, each evening at dusk , guards perform a ceremony called 'lowering of the flags'. It may at first seem aggressive to foreigners, but really is great entertainment for the 2000 strong crowd from both sides who shout and cheer for their respective countries.